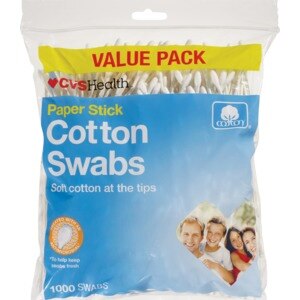 CVS Cotton Swabs, Value Pack
Cotton. 100% pure cotton tips. Treated with an antimicrobial to help keep swabs fresh. (Antimicrobial treatment does not protect users from illness or disease). Compare to Q-Tips (this product is not manufactured or distributed by Unilever, owner of the registered trademark Q-Tips). For delicate care: 100% pure natural cotton tips are soft and gentle on skin. Use to safely clean ears, belly button and more. Soft cotton at the tip. Low density polyethylene. LDPE goes into plastic bags, grocery sacks, dry cleaning bags, and flexible film packaging as well as some bottles. www.cvs.com. CVS quality. Made in the USA.
Product Type:

Cotton Swabs

Quantity:

901-1000 CT
To clean ears, stroke swab gently around the outer surface of the ear.
Do not enter ear canal. Use only as directed. Entering the ear canal could cause injury. Keep out of reach of children.