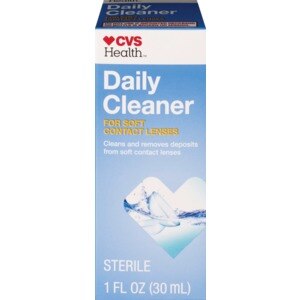 CVS Daily Cleaner For Soft Lenses
CVS Pharmacist recommended. Cleans and removes deposits from soft contact lenses. Sterile. Use daily cleaner for loosening and removing deposits and debris from soft contact lenses.
Ship & Save:

Ship & Save Eligible
A Sterile, Isotonic, Buffered Solution that Contains Hydroxypropyl Methylcellulose, Polyoxymethylene Polyoxypropylene Block Copolymer with Ethylene Diamine, Sodium Borate and Sodium Chloride; Preserved with Edetate Disodium (0.5%) and Sorbic Acid (0.25%).
After removing the lens, place it in the palm of your hand, and place three drops of Daily Cleaner on each lens surface. Rub the lens for 20 seconds. Be sure to clean each side of the lens. Rinse the lens thoroughly with Saline Solution. Disinfect using the procedure which your eye care practitioner has recommended.
If you are allergic to any ingredient in this product, do not use. Not for use directly in the eye. Do not use if imprinted neckband on bottle is broken or missing. Keep this bottle tightly closed when not in use. Store at room temperature.