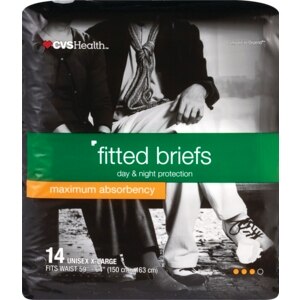 CVS Day & Night Maximum Absorbency Fitted Briefs X-Large (4 PK of 14 EA/Total 56)
"4 packs x 14 Each = 56 Briefs total " 59-64 inch. Maximum protection. Outstanding fit & odor control! Soft, clothlike breathable cover. Compare to Depend (this product is not manufactured or distributed by Kimberly-Clark Worldwide, Inc., owner of the registered trademark Depend. CVS is not affiliated with Kimberly-Clark Worldwide Inc). Fitted Briefs: Adjustable tabs for comfort & fit for use day & night. Locks away wetness & odor. Refastenable tabs for a comfortable fit. Wetness indicator changes color when wet. Soft, stay dry top sheet helps keep skin dry & comfortable. Latex free.
Product Type:

Protective Briefs

Quantity:

1-10 CT

Gender:

Women, Unisex

Absorbency:

Maximum

Size:

X-Large, 4/Pack, L/XL
Do not flush. Person Standing: With tabs in back, position brief between legs and pull up snugly to body. Position brief at waist level. Fasten bottom tabs first, followed by waist tabs. Adjust to fit comfortably. Person in Bed: Position brief as shown with absorbent side facing body. Unfold one flap. Roll person onto brief far enough to unfold other flap. Fasten bottom tabs first, follow by waist tabs. Adjust to fit comfortably. Dispose of in a hygienic manner.
Briefs - like most articles of clothing - may burn if exposed to flame or other source of ignition. Keep plastic bags away from children and pets. Bladder and bowel control problems can be treated medically. Consult your physician for additional information.