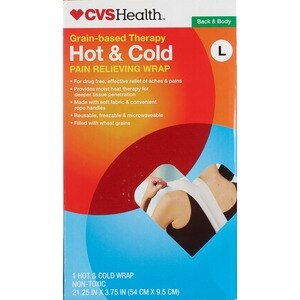 CVS Deep Soothing Hot Cold Natural Moist Heat Pack
Active Area: 8-inch x 4-inch. Natural moist heat pack. Contains 100% natural grains. For headaches, backaches, neck aches, cramps, arthritis, computer wrist support, nursing mothers & more. Ready in minutes & reusable. Comfort design in one size fits all. Reusable hot & cold pack. CVS/pharmacy Deep Soothing Hot & Cold Pack provides instant soothing heat, or place in the freezer for cold pack use. Reusable and ready in minutes. One size fits all. Please recycle. www.cvs.com. CVS quality guarantee. Made in China.
Hot: Heat in microwave for 1-1/2 minutes; if additional warmth is desired, microwave in 20-second intervals, not exceeding 2-1/2 minutes; always test for hot spots and overall temperature before use. Cold: Place in plastic bag and put in freezer overnight.
Consult your physician before use if any medical conditions exist; do not use this product on persons with diabetes, circulatory problems, sensitive skin, or with damaged or broken skin or on persons unable to remove this product, such as infants, children, and some elderly people; review caution label before use. Do not remove caution label from the CVS/pharmacy Deep Soothing Hot & Cold Pack.