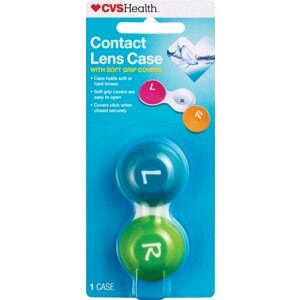 CVS Deluxe Contact Lens Case
For soft or hard lenses. Made in China.
Product Type:

Lens Case

Quantity:

1-10 CT

Ship & Save:

Ship & Save Eligible
Wash the case and caps with hot water before using. Do not use soaps, detergents, or other household chemicals. Rinse thoroughly with sterile saline or sterile disinfection solution depending on the method of disinfection used. Use this method to clean lens case weekly. For Chemical and Heat Disinfection: Follow lens care procedures recommended by your eye care professional.
If a lens-well appears to be dry following the disinfection cycle, do not try to remove the lens. Refill the well with fresh saline solution, replace the cap tightly and allow 20-40 minutes for the lens to rehydrate. If a lens-well continues to dry out or leak solution, the case should no longer be used and should be replaced. If pain or irritation persists with lens wear, remove your lens and consult your eye care practitioner immediately.