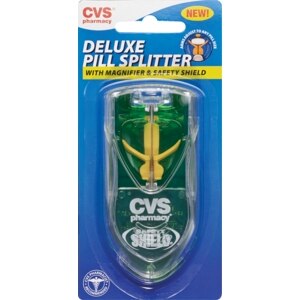 CVS Deluxe Pill Splitter with Magnifier & Safety Shield
With magnifier & safety shield. Arms adjust to any pill size. CVS pharmacist recommended. Made in China.
To open, separate upper and lower sections at the tabs. Place pill anywhere on holding area. Push adjustable arms forward to automatically center pill. Close cover to cup pill. Remove cut tablet halves and keep cutter stored in closed position. Care: Flush tablet cutter with warm water to rinse before and after each use. Open tablet cutter to approximately a 30 degree angle. Stand the tablet cutter on end in a partially open position to air dry. Note: Enteric-coated tablets are intended to be swallowed whole and should never be cut before taking.
Sharp blade. This product is not a toy. Keep out of reach of children.