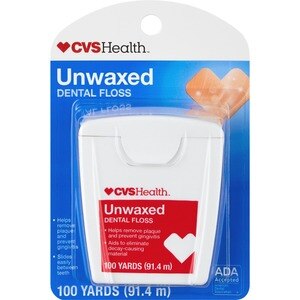 CVS Dental Floss, Unwaxed
Compare to Reach Unwaxed Floss (This product is not manufactured or distributed by Johnson & Johnson Healthcare Products, owner of the registered trademark Reach). Helps remove plaque. American Dental Association accepted. CVS/pharmacy Unwaxed Dental Floss slides easily between teeth and under gums to help remove plaque and decay-causing material. The ADA Council on Scientific Affairs' Acceptance of CVS/pharmacy Waxed Dental Floss is based on its finding that the product is effective for removing plaque between teeth and helping to prevent and reduce gingivitis, when used as directed. www.cvs.com. CVS quality. Made in the USA.
Wrap 18 inches of floss around your middle fingers. Gently glide floss between teeth and down to the gum line, moving back and forth to help loosen plaque. Floss daily to help maintain healthy teeth and gums. Note: Slight gum bleeding when flossing is frequently a sign of unhealthy gums. By flossing daily, bleeding should stop. Consult your dentist if bleeding persists.