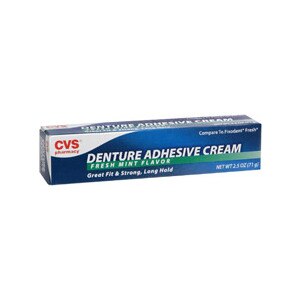 CVS Denture Adhesive Cream Fresh Mint Flavor
CVS Denture Adhesive Cream gives your mouth a cool, clean feeling without interfering with the taste of food. CVS Denture Adhesive Cream guarantees a great fit and a strong, long hold. So you can laugh, talk, eat, and drink with comfort and confidence.
Clean and dry dentures thoroughly before applying CVS Denture Adhesive Cream. Apply CVS Denture Adhesive Cream to dentures in strips or series of dots. Do not apply too close to denture edges. Start with a small amount of product; use more if you need more hold. Press dentures firmly in place and hold briefly. Helpful Hints: Don't use too much product at first. It may take a few tries to find the right amount for you! Touching the tube nozzle to a wet denture can clog the nozzle. Keep nozzle and cap dry to avoid clogging. To help clean gums, use a soft toothbrush and warm water. Consult your dentist regularly to ensure proper fitting dentures.