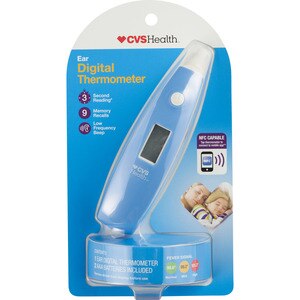 CVS Health Digital Ear Thermometer
Contents: 1 digital thermometer. Batteries included. Gentle tip is less invasive & perfect for little ears. Meets ATSM standards for professional accuracy. Fever signal. Stand-up design is easy to store. 9-reading memory recall. 1 second reading (Reads instantly in approximately 1 second). Instant reading. An ear temperature reading can be just as accurate as a rectal or oral reading. Experts believe the eardrum and the part of the brain that controls the body's core temperature share the same blood supply. This makes this ear a perfect place for measuring temperature. Our CVS/pharmacy Digital Ear Thermometer provides you with the reliable and precise temperature reading you need instantly. Plus it's less invasive, easy to use and easy to read. Featured Benefits: Infrared reading in 1 second. Memory recall displays last 9 temperatures taken. Meets ASTM standards for professional accuracy. Conveniently displays in F or C. Less-invasive, gentle method of taking your baby's temperature. Stand-up design is easy to use & easy to store. No lens filter/cover required. What is fever signal? Fever Signal displays colors to quickly and easily help you understand temperature levels. The color green indicates normal temperature, yellow indicates a mildly above-normal temperature, and red indicates high temperature/fever. Made in China.
This item is FSA (Flexible Spending Account) eligible.