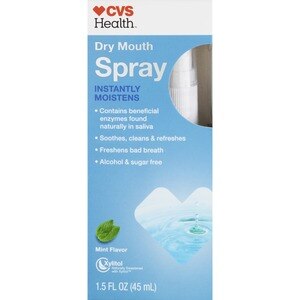 CVS Dry Mouth Spray Mint Flavor
Instantly moistens. Compare to Biotene Moisturizing Mouth Spray (This product is not manufactured or distributed by GlaxoSmithKline, owner of the registered trademark Biotene Moisturizing Mouth Spray). Contains beneficial enzymes found naturally in saliva. Soothes, cleans & refreshes. Freshens bad breath. Alcohol & sugar free. Naturally sweetened with xylitol. Helps relieve ongoing dry mouth symptoms. CVS/pharmacy Dry Mouth Spray helps soothe and relieve ongoing dry mouth symptoms for everyday comfort. It instantly moisturizes and refreshes for a healthier mouth. A combination of 7 beneficial enzymes helps protect against bacteria that can cause bad breath, maintains your mouth's natural moisture balance and provides lasting relief. Contains no saccharin. CVS quality. Made in the USA.
Ship & Save:

Ship & Save Eligible
Purified Water, Xylitol, Propanediol, Cellulose Gum, Benzoic Acid, Organic Flavor, Xanthan Gum, Aloe Vera, Zinc Gluconate, Sodium Phosphate, Phytic Acid, Lactoferrin, Lysozyme, Glucoxidase, Amylase, Papain, Amyloglucosidase, Peptizyme.
Shake well before use. Spray 2-3 times directly into mouth for instant relief of dry mouth symptoms. Use as needed throughout the day and just before bedtime for nighttime relief. For optimal results, do not follow immediately with water.
Keep out of reach of children. Use only as directed. Store in a cool, dry place. Do not use if seal on cap is removed.