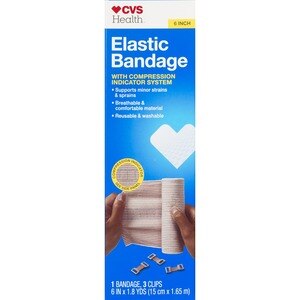 CVS Elastic Bandage 6 Inch
1.8 yds long. Provides support for strains and sprains. Can be washed and reused. Retains elasticity after repeated washings. CVS/pharmacy 6-inch Elastic Bandage has special clips that enable the bandage to be easily secured. Bandage retains elasticity after repeated use and washing. 6 inch width idea for: hip; shoulder; upper leg. Wear and care instructions enclosed. FSA eligible. Compare to Futuro Elastic Bandages (This product is not manufactured or distributed by 3M, owner of the registered trademark Futuro). Made in China.
Fiber Content: Cotton and Polyester.
Discontinue use if pain increases or persists.