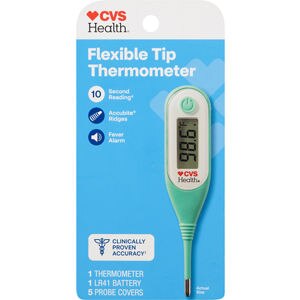 CVS Flexible Tip Digital Thermometer
Flexible tip. Soft & adaptable to make temperature taking comfortable & easy. Meets ASTM standards for professional accuracy. Fever alarm. For oral, rectal & underarm use. Water resistant. 30 second reading. Flexible thermometers are more comfortable because they conform to the body. Our CVS/pharmacy flexible tip digital thermometer is easy-to-use and gently adapts to the area of use. Plus, it gives you an accurate reading in just 30 seconds. Featured benefits: measures temperature in 30 seconds; memory recall displays last temperature taken; meets ASTM standards for professional accuracy; conveniently displays in degrees F or degrees C; soft, flexible design for comfort; easy-to-read display; water resistant for safe cleaning. Advanced technology: easy push-button technology for oral, rectal or underarm use; fever alarm sounds when high temperature is reached. Contents: 1 digital thermometer; battery included. (Results vary by individual and measurement method. Thermometer reads in approximately 30 seconds.) F$A eligible. Made in China.
This item is FSA (Flexible Spending Account) eligible.