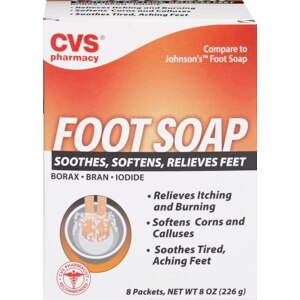 Use CVS Foot Soap to ease stress for tired, tender feet. Foot soap cleans and rejuvenates, relaxes and refreshes tired foot muscles. Leaves feet feeling fresh and revitalized. Easy to use. Relieves itching and burning. Softens corns and calluses. Soothes tired, aching feet. Use CVS Foot Soap as a full body bath.
Soap; Sodium Sesquicarbonate; Sodium Borate; Bran; Caramel; Potassium Iodide
Using a foot basin, dissolve contents of one envelope with two quarts of comfortably warm water. Stir to dissolve and soak feet for 15-20 minutes for maximum relief. For corns and calluses: Repeat treatment as necessary to soften corns and calluses. Feet will feel fresh and relaxed. Full body bath: For a complete rejuvenating experience, dissolve contents of one envelope in a tub of warm water. After bathing, towel dry and feel refreshed immediately.
KEEP OUT OF REACH OF CHILDREN. DO NOT USE this product if you are diabetic or have poor blood circulation except under the advice and supervision of a doctor or podiatrist. Do not use on irritated skin or on any area that is infected or reddened. If discomfort persists, see your doctor or podiatrist.