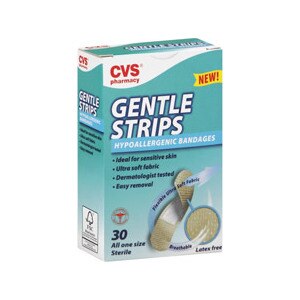 CVS Gentle Strips Hypoallergenic Bandages
All one size: 30 - 3/4 x 3 inches. Sterile. Ideal for sensitive skin. Ultra soft fabric. Dermatologist tested. Easy removal. Flexible ultra soft fabric. Breathable. Latex free. CVS pharmacist recommended. CVS/pharmacy Gentle Strips are specially designed with an ultra soft fabric and are ideal for use with sensitive skin. Dermatologist tested. Non-stick absorbent pad won't stick to wound for gentle removal. Gentle non-aggressive adhesive developed for easy removal. Sterile unless wrapper is opened or damaged. FSA eligible. Made in USA.
For optimal results, apply bandage to clean, dry skin. Change dressing daily, when wet or more often if needed.