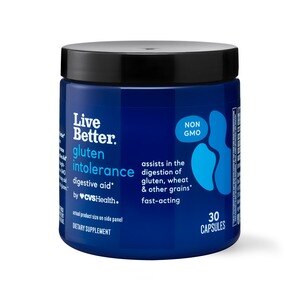 CVS Glutenaid Fast Acting Capsules
Plant-based enzyme supplement. Assists in digestion of: gluten; wheat; other grains. CVS/pharmacy GlutenAid is specially formulated for individuals who feel unwell after eating wheat or grain and thus may have an intolerance to gluten. Gluten is a protein that most often is found in grains such as barley, rye, wheat, and spelt. The enzyme DPP-IV (Dipeptidyl peptidase-IV) is well known for its ability to break down gluten proteins, which may reduce the onset of symptoms associated with gluten intolerance. CVS/pharmacy GlutenAid is also formulated to assist in the digestion of the carbohydrate portion of grains (such as wheat) by means of the enzyme amylase. CVS/pharmacy GlutenAid works well in conjunction with restrictive diets such as Gluten-Free Casein-Free (GFCF) and others. This product is not intended to replace a gluten-free diet for those with Celiac Disease. Contains no egg, dairy, preservatives, salt, sucrose, soy, wheat, yeast, nuts, corn, gluten, casein, potato, rice, artificial colors or flavors. Absolutely no fillers. Enjoy the foods you love! Complete support for gluten digestion. Contains amylase to assist the digestion of carbohydrates. All-natural plant-based enzyme formula. (These statements have not been evaluated by the Food and Drug Administration. This product is not intended to diagnose, treat, cure or prevent any disease.). Made in the USA.
Other Ingredients: 100% Gelatin Capsule.
Nutrition Facts
Serving Size: 1capsule
Servings Per Container: 30
Variation:
| Nutrient | Amount per Serving | % Daily Value |
| --- | --- | --- |
| Protease (Aspergillus Niger) | 90500HUT | |
| DPP-IV (Aspergillus Oryzae) | 500DPP | |
| Amylase (Aspergillus Oryzae) | 5000DU | |
Keep closed in dry place; avoid excessive heat. Take 1 capsule with the first bite of any meal containing gluten, or when the food preparation is unknown. More may be taken as needed. Consult health care provider if symptoms of gluten intolerance persist.
Please keep out of reach of children.