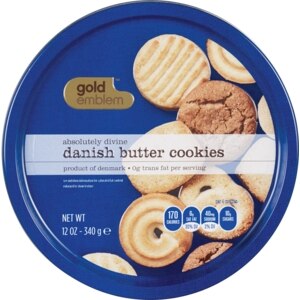 CVS Gold Emblem Danish Butter Cookies
Premium quality. Great value. We're proud to bring you a true European classic: real Danish Butter Cookies made from a traditional, all-natural recipe. Delectable buttery taste, and lots of variety - they're Absolutely Divine!
Wheat Flour, Butter, Sugar, Sugar (Decoration), Liquid Whole Eggs, Wheat Flakes, Salt, Cocoa, Raising Agent: Ammonium Bicarbonate, Invert Sugar, Vanilla.