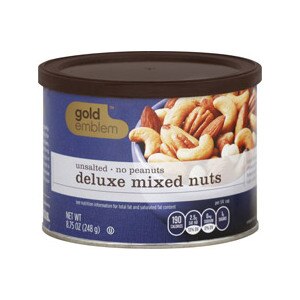 CVS Gold Emblem Deluxe Mixed Nuts Unsalted
No peanuts. Gold Emblem Deluxe Mixed Nuts are chosen for nut eaters seeking a perfectly balanced blend of sumptuous unsalted nuts without peanuts. 190 calories, 2.5 g sat fat (13% DV), 0 mg sodium (0% DV), 1 g sugars per 1/4 cup. Our commitment to quality means we shop carefully for ingredients, adjust recipes, and taste-test everything because in our house as in yours, what matters most is taste. In fact, we guarantee you'll love this item. We're Gold Emblem: our standard is delicious.
Cashews, Almonds, Brazil Nuts, Filberts/Hazelnuts, Pecans, Peanut and/or Soybean Oil.
Contains cashews, almonds, brazil nuts, filberts/hazelnuts, pecans. May contain peanuts, other tree nuts, milk. May contain an occasional shell fragment.