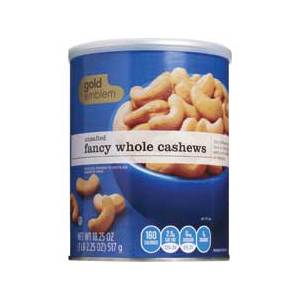 CVS Gold Emblem Fancy Whole Cashews Unsalted
Premium quality. Great value. I'm proud to put our name on this product. It represents the quality and value you've come to expect from CVS. I know you'll enjoy the great taste. As always, it carries our money back guarantee. - Jim Ryan CEO.
Cashews, Peanut and/or Canola and/or Cottonseed Oil.
Allergen Information: Contains cashews. May contain trace amounts of peanuts, almonds, Brazil nuts, hazelnuts, pecans, pistachios, coconut, macadamia nuts, walnuts, soy, milk, wheat. May contain an occasional shell fragment.