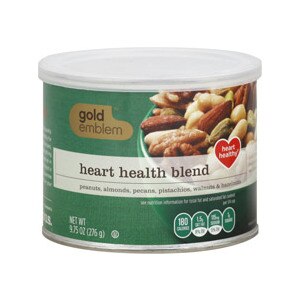 CVS Gold Emblem Heart Health Blend with Sea Salt
Peanuts, almonds, pecans, pistachios, walnuts & hazelnuts. Heart healthy (scientific evidence suggest but does not prove that eating 1.5 ounces per day of most nuts as part of a diet low in saturated fat and cholesterol may reduce the risk of heart disease). 180 calories, 1.5 g sat fat (8% DV), 115 mg sodium (5% DV), 1 g sugars per 1/4 cup. Our commitment to quality means we shop carefully for ingredients, adjust recipes, and taste-test everything because in our house as in yours, what matter s most is taste. In fact, we guarantee you'll love this item. We're Gold Emblem: our standard is delicious. Gold Emblem Heart Health Blend is a delicious and nutritious mix of quality, heart-healthy nuts.
Peanuts, Almonds, Pecans, Pistachios, Walnuts, Filberts/Hazelnuts, Peanut and/or Soy Oil, Sea Salt.
Contains peanuts, almonds, pecans, pistachios, walnuts, filberts/hazelnuts. May contain other tree nuts, milk. May contain an occasional shell fragment.