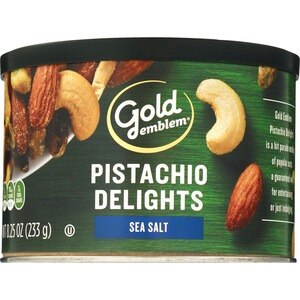 CVS Gold Emblem Pistachio Delights
Pistachios, cashews & almonds. Premium quality. Great value. Scientific evidence suggests but does not prove that eating 1.5 ounces of most nuts, such as pistachios, as part of a diet low in saturated fat and cholesterol may reduce the risk of heart disease. I'm proud to put our name on this product. It represents the quality and while you've come to expect from CVS. I know you'll enjoy the great taste. Product on label may not represent actual size of product.
Pistachios, Cashews, Almonds, Peanut Oil and/or Soybean Oil, Salt.
Contains: Pistachios, cashews, almonds. May Contain: Peanuts, other tree nuts. May contain an occasional shell fragment.