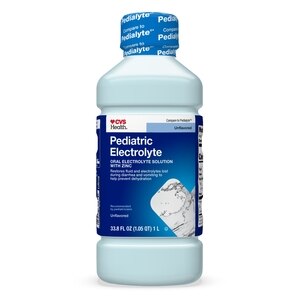 CVS Health Pediatric Electrolyte Oral Maintenance Solution Unflavored, 35.2 OZ
Oral electrolyte solution with zinc. Restores fluid and electrolytes lost during diarrhea and vomiting to help prevent dehydration. Recommended by pediatricians. Compare to Pedialyte (CVS/pharmacy Pediatric Electrolyte is not manufactured or distributed by Abbott Nutrition, Abbott Laboratories, the distributor of Pedialyte). Use CVS/pharmacy Pediatric Electrolyte instead of juices, sports drinks, soft drinks or water to help restore fluid and minerals lost during diarrhea and/or vomiting. Compare and Save. Provides (per liter) Sodium: CVS/pharmacy 45 mEq, Pedialyte 45 mEq. Provides (per liter) Potassium: CVS/pharmacy 20 mEq, Pedialyte 20 mEq. Provides (per liter) Chloride: CVS/pharmacy 35 mEq, Pedialyte 35 mEq. Provides (per liter) Zinc: CVS/pharmacy 7.8 mg, Pedialyte 7.8 mg. Provides (per liter) Dextrose: CVS/pharmacy 25 g, Pedialyte 25 g. Provides (per liter) Calories: CVS/pharmacy 100, Pedialyte 100. CVS quality. Please recycle.
Water, Dextrose, Potassium Citrate, Sodium Chloride, Citric Acid, Sodium Citrate, Zinc Gluconate.
Nutrition Facts
Serving Size: 1liter
Servings Per Container: 1
Variation:
| Nutrient | Amount per Serving | % Daily Value |
| --- | --- | --- |
| Calories | 100 | |
| Sodium | 1035mg | |
| Potassium | 1755mg | |
| Chloride | 35mEq | |
| Zinc | 7.8mg | |
| Dextrose | 25g | |
Ready to use. To Open: Remove neckband. Twist off cap. Remove inner seal. Infants Under 1 Year of Age: Consult doctor before using. Children 1 Year of Age and Older: Offer solution every 1-4 hours. Child should drink 1 to 2 liters (32 to 64 fl oz) per day while diarrhea continues. If desired, refrigerate to chill. Storage: After opening, reseal container with original cap, refrigerate and use within 48 hours. Do not reuse container. Store unopened containers in a cool place.
Use under medical supervision. Do not add water or dilute. Do not use if neckband is broken or missing. Do not use if inner seal is broken or missing. If your child experiences vomiting or fever, or if diarrhea continues beyond 24 hours, consult your doctor.