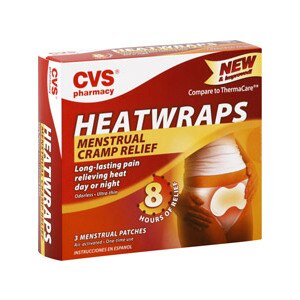 CVS Heatwraps Menstrual Cramp Relief
Long-lasting pain relieving heat day or night. Odorless, ultra-thin, comfortable, discreet. 8 Hours of pain relieving heat: Long-lasing relief. Air-activated: Just open pouch, starts to warm on its own. One time use. Made in Japan.
Open the plastic wrapper when ready to use. It may take up to 30 minutes for the HeatWrap patch to reach maximum temperature. Peel away paper to reveal adhesive side. Place on area of pain with adhesive side toward clothing. Do not apply adhesive side to skin. Attach firmly. For maximum effectiveness, you should wear the HeatWrap for 8 hours. Do not use for more than 8 hours in a 24-hour period. Please read All instructions and warnings before use. To reduce the risk of burns, fire and personal injury, this product must be used in accordance with the warnings and use instructions.
This product has the potential to cause skin irritation or burns. Do not use HeatWraps in the same location for more than 8 hours in any 24 hour period. If you are 55 years of age or older; wear the wrap over a layer of clothing and not directly against your skin. The heat pads contain iron which can be harmful if ingested. If swallowed, rinse mouth with water and call a Poison Control Center right away. If heat pad contents come in contact with your skin or eyes, rinse right away with water. To avoid the risk of fire, do not microwave or reheat this product. Do Not Use: If your doctor does not recommend its use for you or your condition, if the heat pad material is damaged or torn, with medicated lotions, creams or ointments, on broken or sensitive skin, on areas of bruising or swelling that have occurred within 48 hours, if you are not capable of applying and removing the wrap by yourself, on infants and some elderly, on children 12 and under, on areas of the body where heat cannot be felt, if you are bedridden or prone to skin ulcers, with other forms of therapeutic heat, including electric heating. Ask a Doctor Before Use: If you are pregnant, or have diabetes, poor blood circulation or heart disease, rheumatoid arthritis. When Using This Product: It is normal to experience slight skin redness after removing the wrap. If your skin is still red after a few hours, stop using HeatWraps, until the redness goes away completely. Be careful and periodically check your skin. Stop use if the pad feels too hot or uncomfortable. Stop Use and Ask a Doctor: If pain continues for 7 days or if you have swelling, rash or excessive redness. Do not microwave. For external use only. Keep out of reach of children.