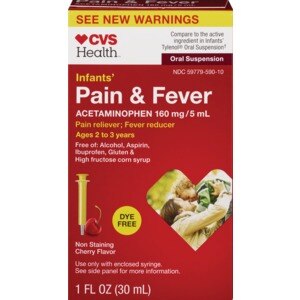 CVS Infants' Pain & Fever Oral Suspension Drops, Cherry
Contains: Acetaminophen fever reducer & pain reliever
Free of: Alcohol, Aspirin, Ibuprofen, Gluten & High fructose corn syrup
Non-Staining Dye Free
Use ONLY enclosed syringe
160 mg per 5 ml
Uses temporarily:
reduce fever
relieves minor aches and pains due to:
the common cold
flu
headache
sore throat
toothache
Specialties:

Alcohol Free, Dye Free, Gluten Free

Formulation:

Drops

Quantity:

0-5 OZ

Primary Flavor:

Cherry

Concern:

Pain & Fever
Anhydrous citric acid, calcium sulfate, carrageenan, flavor, glycerin, hydroxyethyl cellulose, microcrystalline cellulose and carboxymethylcellulose sodium, propylene glycol, propylparaben, purified water, sodium benzoate, sorbitol solution, sucralose, tribasic sodium phosphate
Attention: use only enclosed syringe specifically designed for use with this product. Do not use any other dosing device.
Shake bottle. Remove cap.
Insert syringe tip into hole at top of bottle. Turn upside down.
Pull syringe back to fill to prescribed level.
Detach syringe from bottle. Slowly dispense into child's mouth: aim toward inner cheek.
For ages 2-3 years, fill syringe to 5mL. For children under 2, ask a doctor.
this product does not contain directions or complete warnings for adult use.
do not give more than directed (see liver warning)
find right dose on chart. If possible, use weight to dose; otherwise use age.
shake well before using
Use only enclosed syringe designed for use with this product. Do not use any other dosing device.
remove bottle cap and insert syringe tip through opening at top of the bottle.
tip the bottle upside down and draw medicine into the syringe.
fill to dose level.
dispense liquid slowly into child's mouth, toward inner cheek.
if needed, repeat dose every 4 hours while symptoms last.
do not give more than 5 times in 24 hours.
do not give for more than 5 days unless directed by a doctor.
replace cap tightly to maintain child resistance.
Liver Warning: This product contains acetaminophen. Severe liver damage may occur if your child takes: more than 5 doses in 24 hours, which is the maximum daily amount; with other drugs containing acetaminophen. Sore Throat Warning: If sore throat is severe, persists for more than 2 days, is accompanied or followed by fever, headache, rash, nausea, or vomiting, consult a doctor promptly. Do not use: with any other drug containing acetaminophen (prescription or non-prescription) (If you are not sure whether a drug contains acetaminophen, ask a doctor or pharmacist); if your child has ever had an allergic reaction to this product or any of its ingredients. Ask a doctor before use if your child has liver disease. Ask a doctor or pharmacist before use if your child is taking the blood thinning drug warfarin. Stop use and ask a doctor if: pain gets worse or lasts more than 5 days; fever gets worse or lasts more than 3 days; new symptoms occur; redness or swelling is present (These could be signs of a serious condition). Keep out of reach of children. In case of overdose, get medical help or contact a Poison Control Center right away (1-800-222-1222) Quick medical attention is critical even if you do not notice any signs or symptoms. Do not use if printed bottle wrap is broken or missing.