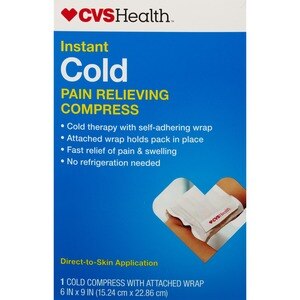 CVS Health Instant Cold Pain Relieving Compress
6 x 9 inch. 1 latex-free cold pack with attached wrap. Pain relieving compress. Attached wrap holds pack in place. Fast relief of pain & swelling. No refrigeration needed. Latex free. Direct-to-skin application. CVS/pharmacy Instant Cold Therapy with Self-Adhering Wrap offers convenient, on-the-go cold therapy. The pain-relieving compress comes with a self-adhering wrap to help you treat injuries. No need for a towel or elastic bandage. Comfortable for direct-to-skin application. Latex free. www.cvs.com. CVS quality. Please recycle. Patent pending in USA, Canada, and China. Made in China.
This item is FSA (Flexible Spending Account) eligible.
Calcium Ammonium Nitrate and Water. This Product Contains Less than 28% Nitrogen and is Not Regulated.
To use, follow these simple steps: 1. Fold: Fold bag top to bottom to pop inner fluid bag. 2. Shake: Shake bag vigorously to activate cooling. 3. Apply: Apply to injured area and wrap comfortably. Storage: Store at room temperature. Keep away from open flame and extreme temperature conditions. Protect from freezing. Please see product for additional cautions, usage, and storage instruction.
For single use only. Discard after using. Do not attempt to use and/or reuse this product by freezing as frostbite may result. Always let your personal comfort level be your guide. Never wrap too tightly and monitor for comfort level regularly.