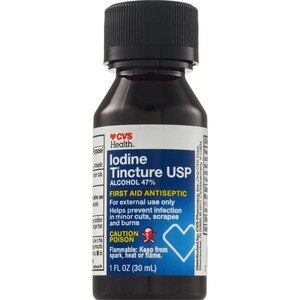 Reduces the risk of infection and cross-infection.
Active Ingredients: Iodine (2%), Alcohol (47% by volume), Purified Water, and Sodium Iodine (2.4%).
Apply to affected area. Note: Product will stain skin and clothing.
Not for use on wild or domestic animal bites. If you have an animal bite consult doctor immediately. Do not persists see your physician. Do not bandage tightly. In case of accidental ingestion, contact doctor or Poison Control Center immediately. Do not use on deep or puncture wounds or serious burns. If redness, irritation, or pain persists or increases discontinue use and consult doctor.