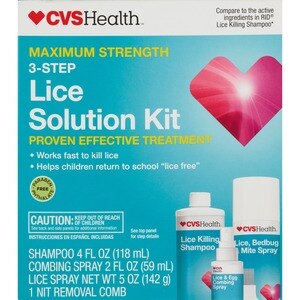 CVS Lice Solution Kit Maximum Strength
Shampoo: For the treatment of: head lice, pubic (crab) lice, body lice. Egg Remover: After lice treatment products. Bedding Spray: To kill lice and their eggs on mattresses, furniture, car interiors and other non-washable items.
Ship & Save:

Ship & Save Eligible
Shampoo: Piperonyl Butoxide 4%; Pyretheum Extract (Equivalent To 0.33% Pyrethrins). Egg Remover: Purified Water; Glycolic Acid; Polyquaternium-10; Hydroxyethylcellulose; Potassium Hydroxide; Germaben II. Bedding Spray: Permethrin 0.50% (3-Phenoxyphenylmethyl) (+/-) Cis/Trans 3-(2,2-Dichloroethenyl)-2,2 Dimethylcyclopropanecarboxylate Cis/Trans Ratio: Min 35% (+/-) Cis; Max 65% (+/-) Trans
Shampoo: Important: Read warnings before using. Use on dry hair. Shake well before use. Read insert before using product and save for future reference. Apply to affected area until all the hair is thoroughly wet with product. Alow product to remain on area for 10 minutes but no longer. Add sufficient warm water to form a lather and shampoo as usual. Rinse thoroughly. A fine-toothed comb or a special lice/nit removing comb may be used to help remove dead lice or their eggs (nits) from hair. A second treatment must be done in 7 to 10 days to kill any newly hatched lice. Egg Remover: Apply liberally to wet hair. Massage scalp to create lather. Allow 3-5 minutes contact time with the hair. Use the special comb to remove nits. Rinse or wipe comb periodically to clean. Re-check for nits before rinsing out. Use as often as desired. Other Information To Prevent Reinfestation: All personal headgear (scarves, coats and bed linen) should be disinfected by machine washing in hot water and drying using hottest drying cycle for at least 20 minutes. Personal articles of clothing or bedding that have been exposed to lice and cannot be washed may be dry-cleaned or sealed in a plastic bag for a period of 2 weeks. Combs and brushes may be disinfected by soaking in hot water (hotter than 130 degrees F) for 5-10 minutes. Thorough vacuuming of rooms inhabited by infected persons is recommended. Inanimate objects such as mattresses and carpets should be treated with bedding spray to improve the louse treatment process. Bedding Spray: It is a violation of Federal law to use this product in a manner inconsistent with its labeling. SHAKE WELL BEFORE USING. To Kill Lice and Louse Eggs: Spray in an inconspicuous area to test for possible staining or discoloration. Inspect again after drying, and then proceed to spray entire area to be treated. Hold container upright with nozzle away from you. Depress valve and spray from a distance of 8 to 10 inches. Spray each square foot for 3 seconds. Spray only those garments and parts of bedding, including mattresses and furniture, that cannot be either laundered or dry-cleaned. Allow all sprayed articles to dry thoroughly before use. Bedbugs: Spray mattresses, particularly around tufts and seams. Take beds apart and spray into all joints. Treat baseboards, moldings and floors. Repeat treatment as necessary.
Shampoo: For external use only. Allergy Alert: Use with caution on persons allergic to ragweed. Do not use near or permit contact with eyes or mucous membranes, such as inside the nose, mouth, or vagina as irritation may occur. When using this product: keep out of eyes when rinsing hair. Adults and children: close eyes tightly; do not open eyes until product is rinsed out; protect children's eyes with washcloth, towel or other suitable material, or by a similar method; if product gets into eyes, immediately flush with water. Stop use and ask doctor if: skin irritation occurs or infection is present or develops; infestation of eyebrows or eyelashes occurs. Keep out of reach of children. If swallowed, get medical help or contact a Poison Control Center immediately. Egg Remover: For external use only. Keep out of reach of children. Bedding Spray: Keep out of reach of children. Read entire label before each use. Precautionary Statements: Hazards to Humans and to Domestic Animals. Harmful if absorbed through skin. Causes eye irritation. Avoid contact with skin, eyes or clothing. Wash thoroughly with soap and water after handling. Avoid contamination of feed and foodstuffs. Remove pets and birds and cover fish aquariums before space spraying or surface applications. This product is NOT FOR USE ON HUMANS. If lice infestation should occur on humans, use a product labeled for use on humans. Vacate room after treatment and ventilate before reoccupying. Do not allow children or pets to contact treated areas until surfaces are dry. Environmental Hazards: This product is toxic to fish. Do not apply directly to any body of water. Do not contaminate water when disposing of equipment washwaters. Physical or Chemical Hazards: Contents under pressure. Do not use or store near heat or open flame. Do not puncture or incinerate container. Exposure to temperatures above 130 degrees F may cause bursting. Statement of Practical Treatment: If in Eyes: Flush with plenty of water. Contact physician if irritation persists. If on Skin: Wash with plenty of soap and water. Get medical attention.