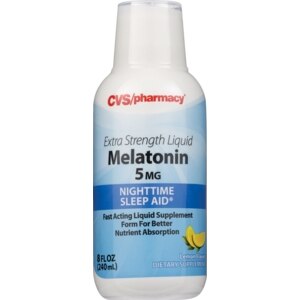 CVS Liquid Melatonin Extra Strength Nighttime Sleep Aid 5 mg with Lemon
Dietary Supplement. Nighttime sleep aid. Fast acting liquid supplement form for better nutrient absorption. Melatonin works in harmony with your natural sleep cycle to give you the tranquil rest you deserve, so you can awaken feeling refreshed. Melatonin is a terrific choice for people experiencing occasional sleeplessness, those with jet lag, or anyone seeking to improve their quality of rest. (This statement has not been evaluated by the Food and Drug Administration. This product is not intended to diagnose, treat, cure, or prevent any disease.)
Water, Citric Acid, Natural & Artificial Flavoring, Sodium Benzoate, Potassium Sorbate, Sucralose, Artificial Coloring (Yellow No. 5).
Take 1 tablespoon per day. For optimum taste refrigerate after opening! Read label directions. Wash after use - AccuCup.
Consult a health care practitioner prior to use if you are taking blood thinners. For adult use only. Keep out of reach of children.