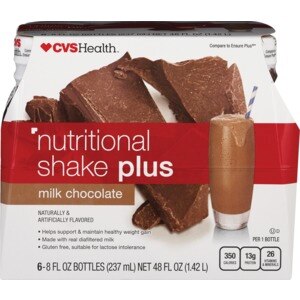 CVS Plus Nutritional Liquid Shake, Milk Chocolate
To help gain or maintain healthy weight. Eating right is necessary to stay healthy. Preparing and eating the nutritious foods your body needs can be challenging due to an active lifestyle or a medical condition. This product can be helpful to close the gap between what you eat versus what you should eat. The balanced nutrition of this product can help you meet your nutritional needs: Protein to help build and maintain muscle tissue. Carbohydrate to provide energy. Vitamin C helps maintain healthy bones, teeth and cartilage. Calcium, Magnesium and Vitamin D to help maintain bones and teeth. Folic Acid to help promote growth and development of normal cells. Vitamin B6 and Iron for healthy red blood cells. Antioxidant Vitamins C and E to help protect cells from damage. Lactose Free for those who are lactose intolerant. For low-cholesterol diets. Rich, creamy, good tasting, ready to drink. Excellent source of 24 essential vitamins and minerals. 350 calories.
Per Can (8 Fl Oz): Total Fat 11 g (Saturated Fat 1 g); Cholesterol <5 mg; Sodium 240 mg; Potassium 500 mg; Total Carbohydrate 50 g (Dietary Fiber <1 g; Sugars 18 g); Protein 13 g; Vitamin A; Vitamin C; Calcium; Iron; Vitamin D; Vitamin E; Vitamin K; Thiamin; Riboflavin; Niacin; Vitamin B6; Folate; Vitamin B12; Biotin; Pantothenic Acid; Phosphorus; Iodine; Magnesium; Zinc; Selenium; Copper; Manganese; Chromium; Molybdenum; Chloride; Water; Corn Syrup; Maltodextrin (Corn); Sugar (Sucrose); Calcium Caseinate (Milk Derivative); Canola Oil; Corn Oil; High-Oleic Safflower Oil; Cocoa Powder (Processed With Alkali); Soy Protein Isolate; Sodium Caseinate (Milk Derivative); Magnesium Chloride; Potassium Citrate; Calcium Phosphate Tribasic; Natural and Artificial Flavor; Soy Lecithin; Potassium Chloride; Sodium Citrate; Magnesium Phosphate Dibasic; Choline Chloride; Ascorbic Acid; Carrageenan; Ferrous Sulfate; Zinc Sulfate; Alpha-Tocopheryl Acetate; Niacinamide; Manganese Sulfate; Calcium Pantothenate; Cupric Sulfate; Thiamin Chloride Hydrochloride; Vitamin A Palmitate; Pyridoxine Hydrochloride; Folic Acid; Chromium Chloride; Potassium Iodide; Phylloquinone; Sodium Molybdate; Sodium Selenite; Vitamin D3; Cyanocobalamin
SHAKE WELL. Tastes best chilled, or can be served at room temperature. Suggest one can per day for supplemental use. To use as your only source of nutrition, see your doctor. Once opened, cover, refrigerate and use within 48 hours. Do not freeze.