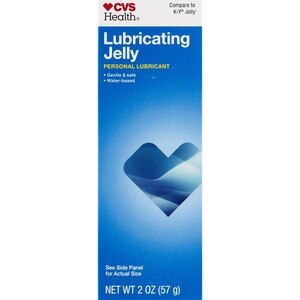 CVS Lubricating Jelly Personal Lubricant, 2 OZ
An ideal all around general lubricant. Recommended for personal lubrication when vaginal dryness causes discomfort. An excellent lubricant for insertion of rectal thermometers, enemas, douches, and similar types of nozzles. Lubricating jellies are widely used in gynecological and hospital procedures.
This product is not a spermicide and cannot be used as a contraceptive
Chlorhexidine gluconate, gluconolactone, glycerin, hydroxyethylcellulose, methylparaben, purified water, sodium hydroxide
To open, flip up cap. Squeeze tube to obtain desired amount of lubricant. Apply as needed. Snap cap closed after use.
Keep out of eyes and ears. If irritation or discomfort occurs, discontinue use and consult a physician. Keep out of reach of children.