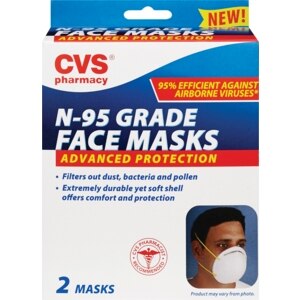 CVS Maxi-Mask Ultra 95 Particulate Respirators
Ultra-high filtration efficiency. NIOSH approved as an N95 particulate respirator. Complies with OSHA regulations. Made from latex-free materials. May help provide respiratory protection against some airborne diseases! Quality products since 1927. Other Great Uses for the Maxi-Mask Ultra 95: Protects against non-oil containing dusts, fumes and mists. Filters out bacteria, pollen and other common airborne irritants. Ideal for sanding wood, plastic, drywall compound and painted surfaces. Also excellent for installing fiberglass insulation. Maxi-Mask Ultra 95 is approved by the National Institute for Occupational Health (NIOSH) as an N95 (95% filter efficiency level) particulate respirator. Meets or exceeds the NIOSH N95 standard recommendation by both the CDC and WHO for health care workers treating airborne diseases. It complies with OSHA regulations. First aid. Information provided inside box. Protect yourself! Made in China.
Ship & Save:

Ship & Save Eligible
Fitting: 1. Place respirator under your chin with the nose-piece up. Pull the top headband over your head and above the ears. 2. Pull the bottom headband over your head and place around the neck, below the ears. 3. Push the nosepiece inward with your fingertips to conform to the shape of your nose.
The respirator should be fit-checked for each wearing. Place both hands completely over the respirator and exhale. If air leaks around nose or the edges, adjust the nose-piece and/or headbands until a good fit is achieved. 1. Wearer must read fitting instructions and limitations before use. 2. This respirator does not guarantee protection against the risk of contracting disease or infection. 3. Do not use for protection from asbestos, paint spray, sandblasting, gasses or vapors.