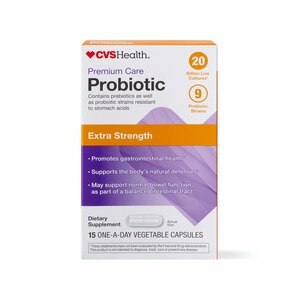 CVS Maximum Strength Probiotic Vegetable Capsules
New starter pack! Formulated with 2 strains of friendly bacteria. 20 billion live bacteria cells per capsule (Contains a minimum of 20 billion live bacteria cells per capsule when manufactured, and provides a minimum concentration of 5 billion at expiration date). Helps maintain a healthy intestinal flora balance. Supports: digestive health, the body's natural defenses, normal bowel function. 15 one-a-day vegetable capsules. Dietary supplement. Multi-strain probiotic complex. 2 natural flora probiotic strains. Provides live microorganisms. Please recycle. CVS quality guarantee. Gluten, dairy and soy free. No refrigeration needed. Beneficial bacteria can help support healthy intestinal flora balance. Humans' intestinal flora is naturally colonized by trillions of microorganisms. Maintaining a natural balance between all bacteria species is important for overall digestive health. CVS/pharmacy Maximum Strength Probiotic is a proprietary probiotic blend containing 2 different strains of friendly bacteria and, when taken daily, helps naturally balance the digestive flora. These statements have not been evaluated by the Food and Drug Administration. This product is not intended to diagnose, treat, cure or prevent any disease. Made in Canada.
Health Goals:

Probiotics & Digestive Health
Proprietary Probiotic Blend Providing 5 Billion CFU (Contains a Minimum of 20 Billion Live Bacteria Cells per Capsule When Manufactured, and Provides a Minimum Concentration of 5 Billion at Expiration Date): Bifidobacterium Breve (Daily Value Not Established), Lactobacillus Rhamnosus (Daily Value Not Established). Other Ingredients: Maltodextrin, Inulin, Magnesium Stearate, Ascorbic Acid (as Preservative).
Nutrition Facts
Serving Size: 1capsule
Servings Per Container: 15
Variation:
| Nutrient | Amount per Serving | % Daily Value |
| --- | --- | --- |
| Flavor | | |
| Proprietary Probiotic Blend | | |
| Gluten Free | | |
| Dairy Free | | |
Adults and adolescents 12 years and older: As a dietary supplement for intestinal micro-flora balance, take one capsule daily at mealtime.
Keep out of reach of children. Do not use if seal is broken. Store at 72 degrees F, or cooler. Do not expose to excessive heat, or moisture.