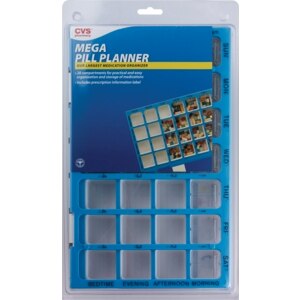 Our largest medication organizer. 28 compartments for practical and easy organization and storage of medications. Includes prescription information label. The Mega Pill Planner helps you never forget to take your medication and vitamins again. Perfect for individuals who take many different types of vitamins or medication daily. Compartments are large enough to hold any shape or size pill. Each compartment holds 75 aspirin tablets. Made in China.
Measures 12 1/2 x 8 3/4 x 1 1/2
The Mega Pill Planner has 4 compartments for each day of the week. They are divided according to the time of day that the medication It to be taken. They are: 7-9 am, 11-1 pm, 4-6 pm, and 8-10 pm. It is best to fill your Mega Pill Planner once per week. Your Mega Pill Planner is equipped with an easy-to-open hinged cover which allows easy access to each compartment. Place the medication or vitamins Into the compartment that corresponds to the time of day you take your medicine. When you have finished loading the Mega Pill Planner close the cover. To remove medication, pull the sliding lid to uncover the appropriate compartment and remove the pills with your finger, or by turning the Mega Pill Planner upside down and shaking out the contents. Be sure to close the slide when you have finished. A quick glance at the cover of your Mega Pill Planner lets you know If you have taken your medication or vitamins. Prescription Label: The Mega Pill Planner also comes with a large prescription information label. Simply write your prescription information in the space provided and insert under the white 28 compartment pill tray. Insert face down so you can easily view the Information through the clear plastic on the underside. Cleaning: Your Mega Pill Planner can be washed in warm, soapy water. Do not place in a dishwasher.