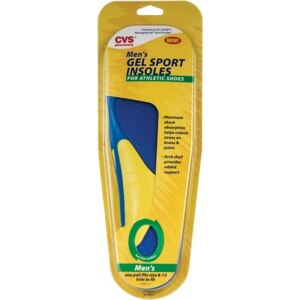 CVS Men's Sport Insoles Size 8-13
For athletic shoes. Maximum shock absorption helps reduce stress on knees & joints. Arch shell provides added support. Compare to Dr. Scholl's Massaging Gel Sport Insoles (This product is not manufactured or distributed by Schering-Plough HealthCare Products, Inc., owner of the registered trademarks Massaging Gel and Dr. Scholl's). Feel the comfort. Trim to fit. CVS/pharmacy Men's Gel Sport Insoles provide comfort and support for all athletic activities. The extra support and cushion absorbs and reduces foot fatigue. Good for all types of sports. Harmful Pounding? Honeycomb shock absorption. Foot fatigue & instability? Supportive arch. Top cloth wicks moisture & controls odor. Made in China.
Remove existing insole (Note: some brands of shoes glue the insole to the shoe, but careful removal will not damage the shoe). Insert CVS/pharmacy Gel Support Insole into the shoe, grey top cloth up. Trim with scissors if necessary.