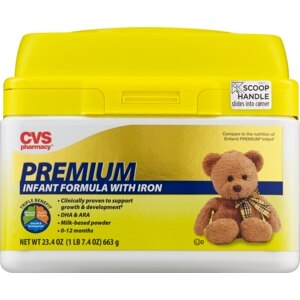 CVS Premium Infant Formula Powder 0-12 Months
CVS/Pharmacy Premium Infant Formula is a milk-based infant formula that provides complete nutrition for your baby's first year. Our formula meets the same FDA quality standards and American Academy of Pediatrics nutrional recommendations as Enfamil and is manufactured in the USA
Benefits:
Milk-based nutrition containing nutrients, vitamins, and minerals to support growth and development
DHA and ARA
Triple Guard for growth, brain & eyes, and immune support
Clinically proven to support growth and development**
Compare to the nutrition of Enfamil PREMIUM Infant*
Breastfeeding is best for babies. *Enfamil Premium is a registered trademarks of Mead Johnson & Co. CVS Pharmacy Infant Formula is not made by or affiliated with Mead Johnson & Co. Your baby's feeding needs will vary based on age and other factors. Always consult your physician or other health care professional regarding your baby's nutritional needs. **Premium formula studied before the addition of prebiotics.
Nonfat Milk, Lactose, Vegetable Oils (Palm Olein, Soy, Coconut, and High Oleic (Safflower or Sunflower) Oil), Whey Protein Concentrate, Galacto-Oligosaccharides, and Less than 1%: Mortierella Alpina Oil (A Source of Arachidonic Acid (ARA)), Crypthecodinium Cohnii Oil (A Source of Docosahexaenoic Acid (DHA)), Soy Lecithin, Vitamin A Palmitate, Vitamin D3, Vitamin E Acetate, Vitamin K1, Thiamine Hydrochloride, Riboflavin, Vitamin B6 Hydrochloride, Vitamin B12, Niacinamide, Folic Acid, Calcium Pantothenate, Biotin, Ascorbic Acid, Choline Chloride, Inositol, Calcium Carbonate, Calcium Chloride, Calcium Hydroxide, Magnesium Chloride, Ferrous Sulfate, Zinc Sulfate, Manganese Sulfate, Cupric Sulfate, Potassium Bicarbonate, Potassium Iodide, Potassium Hydroxide, Potassium Phosphate, Sodium Selenite, Sodium Citrate, Taurine, L-Carnitine, Beta-Carotene, Mixed Tocopherol Concentrate, Ascorbyl Palmitate, Monoglycerides, Nucleotides (Adenosine-5-Monophosphate, Cytidine-5-Monophosphate, Disodium Guanosine-5-Monophosphate, Disodium Uridine-5-Monophosphate).
For Preparation and Use: Your baby's health depends on carefully following these preparation, use and storage instructions. Failure to follow these instructions could result in severe harm. Before preparing the infant formula, make sure to always wash your hands. Clean cap top before opening. Ask your baby's doctor about the need to boil or sterilize water for formula and the proper preparation of bottle and feeding utensils. 1. Pour desired amount of warm water (approx, 100 degrees F/40 degrees C) into bottle. (See feeding chart below). 2. Add powder. Always add powder to water. 3. Cap bottle and shake well until powder is dissolved. Feed immediately. Discard any remaining formula in bottle after 1 hours from start of feeding. Use this feeding chart for proper amount of water and powder. To Make 2 fl oz Bottle: 2 fl oz water, 1 unpacked level scoop (8.6 g); To Make 4 fl oz Bottle: 4 fl oz water, 2 unpacked level scoops (17.2g); To Make 6 fl oz Bottle: 6 fl oz water, 3 unpacked level scoops (25.8 g); To Make 8 fl oz Bottle: 8 fl oz, 4 unpacked level scoops (34.4 g); To Make 1 Quart: 29 fl oz water, 1 unpacked level standard measuring cups & 2 unpacked level scoops (122 g). Do not use microwave to prepare or warm formula. Serious burns may occur. Contents yield approximately 174 fl oz of formula. Storage: Store unused prepared bottled formula in the refrigerator at 35-40 degrees F (2-4 degrees C); use within 24 hours. Do not freeze. Warm infant formula to room temperature and shake well before feeding. Prepared formula should not be without refrigeration more than 2 hours. Store open and unopened cans in a dry area at room temperature. Cover the opened can tightly with plastic cap; use contents within 1 month. Avoid any extreme temperatures.
Contains milk and soy ingredients. Powdered infant formulas are not sterile and should not be fed to premature infants or infants who might have immune problems unless directed and supervised by your baby's doctor.