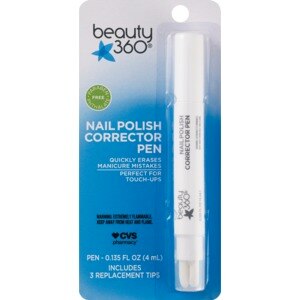 CVS Nail Polish Corrector Pen
Quickly & easily erases manicure mistakes

Includes 4 replacement tips

Perfect for touch-ups

Correct nail polish mistakes in one easy stroke with CVS/Pharmacy� Nail Polish Corrector Pen. The special tip is designed to remove nail polish from cuticles and hard-to-reach areas, leaving you with a professional-looking manicure. Great for home or travel.

Distributed by: CVS Pharmacy, Inc.
One CVS Drive, Woonsocket, RI 02895
�2013 CVS/pharmacy
www.cvs.com
1-800-shop-CVS
Made In Germany

CVS� Quality
Money Back Guarantee
Acetone,Water,Glycerin,Polysorbate 20,Panthenol
Directions: Apply saturated tip over polish, rub slightly and watch it disappear. Wipe tip with tissue to avoid color buildup. Replace cap tightly.

TO REPLACE TIP: Hold pen upright. Pull out used tip and push in new one. Allow one minute for tip to saturate.
Warnings: FLAMMABLE. KEEP AWAY FROM HEAT AND FLAME. KEEP OUT OF REACH OF CHILDREN. Wash hands with soap before and after use. In case of accidental eye contact, immediately flush eyes with plenty of water, remove any contact lenses and continue to flush eyes with water for at least 15 minutes. In case of accidental ingestion, do not induce vomiting. Contact a Poison Control Center immediately. Harmful to synthetic fabrics, wood finishes and plastics.