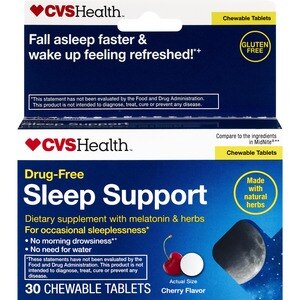 CVS Natural Sleep Aid Chewable Tablets
Herbal supplement. For occasional sleeplessness. Fall back asleep fast & wake up feeling refreshed! Take at any time throughout the night. Feel alert when you wake up in the morning. Made with natural sleep ingredients. Non habit forming. No morning drowsiness. No need for water. After one reaches maturity, the melatonin production declines. A good night's sleep becomes a thing of the past! CVS/pharmacy Natural Sleep Aid contains melatonin, a substance produced by our own bodies which regulates one's natural sleep/wake cycle. Keep CVS/pharmacy Natural Sleep Aid by your bedside. Chewable - so no need for water. (These statements have not been evaluated by the Food and Drug Administration. This product is not intended to diagnose, treat, cure or prevent any disease.)
Melatonin (1.5 mg). Proprietary Blend: Lemon Balm (Leaf), Chamomile (Flower), Lavender (Flower). Other Ingredients: Sorbitol, Mannitol, Stearic Acid, Crospovidone, Malic Acid, Magnesium Stearate, Cherry Flavor and Silica.
Adults: Chew one tablet or let it dissolve in your mouth before bed or anytime during the night. No water necessary. Take another tablet if desired. Do not drive or operate equipment for three hours after taking. Store in a dry place and avoid excessive heat.
Keep out of reach of children. Adult use only. Not to be taken by pregnant or lactating women. Do not take when operating machinery, driving a vehicle, or consuming alcohol. Consult a physician before using this product if you have a depressive disorder, an autoimmune or other medical condition, or are taking medication. Tamper Evident Packaging: Tablets are sealed in blisters. Do not use if seal is cut, torn or broken.