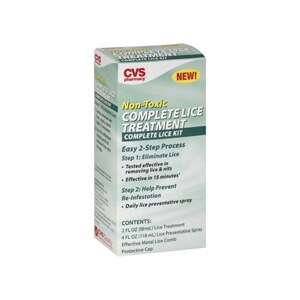 CVS Non-Toxic Complete Lice Treatment
Complete lice kit. Contents: 2 fl oz lice treatment; 4 fl oz lice preventative spray; effective metal lice comb; protective cap. Easy 2-Step Process: Step 1: Eliminate Lice: Tested effective in removing lice & nits; Effective in 15 minutes. Step 2: Help Prevent Re-Infestation: Daily lice preventative spray. Not tested on animals. No animal ingredients. Please recycle. CVS quality. Lice Comb and Cap made in China. Lice Treatment Solution and Preventative Spray made in USA.
Lice Treatment Solution Spray: Water, SD Alcohol 40B, Melaleuca Alternifolia Leaf Oil, Cananga Odorata Flower Oil, Eucalyptus Globulus Oil, Cymbopogon Nardus Oil, Polysorbate-20. Lice Preventative Spray: Active Ingredients: Rosmarinus Officinalis (Rosemary) Leaf Oil (0.12%), Cymbopogon Nardus (Citronella) Oil (0.1%), Cinnamomum Zeylanicum (Cinnamon) Bark Oil (0.01%), Mentha Piperita (Peppermint) Oil (0.00002%). Other Ingredients: Water/Eau (Aqua), Glycerin, Dicetyldimonium Chloride, Polysorbate 20, Dehydroacetic Acid, Benzyl Alcohol, Fragrance (Parfum),Tetrasodium EDTA, Panthenol, Methylchloroisothiazolinone, Methylisothiazolinone, Illicium Verum (Anise) Seed Oil, Melaleuca Alternifolia (Tea Tree) Leaf Oil, Chamomilla Recutita (Matricaria) Flower Extract, Salvia Officinalis (Sage) Leaf Extract, Geranium Maculatum (Wild Geranium) Extract, Cymbopogon Schoenanthus (Lemongrass) Extract, Aloe Barbadensis Leaf Juice.
Lice Treatment: 1. Use Lice Treatment Solution on dry head of hair. Spray solution evenly on scalp and hair until damp. Lightly massage the scalp and hair and place plastic cap on head for fifteen minutes. Do not leave child unattended while plastic cap is on the child's head. 2. After 15 minutes, rinse hair thoroughly with warm water. 3. Find a location with good light (preferably direct sunlight) to begin combing. 4. Remove all snarls or tangles in hair with an ordinary hair comb before using the effective comb. 5. Separate hair into half-inch sections. Press teeth of the comb as close to the scalp as possible and lightly comb, passing the same strands of hair several times. Repeat until entire head is complete. 6. Clean comb with warm, soapy water after each use. 7. Shampoo and condition hair as normal. 8. Check head and hair each day for seven (7) days for any undetected lice or nits (eggs). If lice or nits remain, follow steps 1-7. If no lice or nits are detected, reapply following steps 1-7 after seven (7) days. Step 1: Eliminate Lice: 1. Spray solution on hair, apply cap & wait 15 minutes (15 minutes does not include time for complete treatment). 2. Use the effective metal comb to remove lice, nits & eggs. Step 2: Help Prevent Re-Infestation: Lice Preventative Spray: Apply on the day following lice treatment. Each morning, apply the Preventative Spray to help keep the lice away. Spray the hot spots: back of neck, behind ears, part line and tops of shoulders. Lift up layers of the hair and comb thru each section. For best results, repeat daily or before play with untreated children.
Lice Treatment: For external use only. Avoid getting into eyes. It is important to keep this solution out of the eyes to prevent eye irritation. If there is accidental eye contact, flush eyes thoroughly with cool water. In case of accidental ingestion, seek professional medical assistance. Keep out of reach of children.