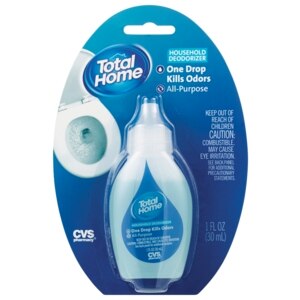 Total Home by CVS Household Deodorizer
You May Also Like
Size: 5 EA

$4.99

(99.8¢ / ea.)
One drop kills odors. All-purpose. Total Home by CVS/pharmacy offers a wide selection of household products that work hard and save you money. It's where performance and value life. Total Home Household Deodorizer ensures that a fresh-smelling room is just a drop away. CVS quality. Made in China.
Contains: Ethanol and Isopropanol.
Place one drop on a glass or ceramic surface, or on a cotton ball. Store and use at room temperature. Do not apply to painted or varnished surfaces. General Air Freshening: Tobacco smoke, alcohol or mustiness, tap one drop or leave open bottle in an inconspicuous space. Nursery: For disposable diapers, use one drop in waste receptacles. With regular diapers, use one drop on the underside of the diaper pail lid. Kitchen: Put one drop in or near garbage receptacle or garbage disposal. Paints & Varnishes: One drop in each corner of the room before starting to paint will control odors. To keep odor from escaping to other parts of the house, use one drop at each door opening. Automobile: Use one drop on floor to eliminate all odors. General Cleaning: Use one or two drops in a gallon bucket of rinse water to eliminate odors from food spills, pets, industrial waste or toilet backup.
Keep out of reach of children. Combustible. May cause eye irritation. Keep away from heat and flame. Avoid contact with eyes. First Aid: In case of eye contact, remove contact lenses and flush with water for 15 minutes. Call a physician if irritation persists or if swallowed.