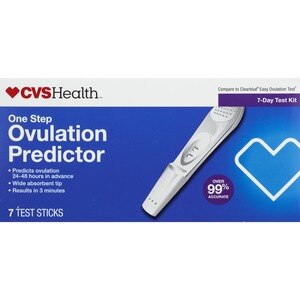 CVS One Step Ovulation Predictor
Helps you predict ovulation, the days when you are most able to become pregnant. Provides easy to use, easy to read results. Contains: 5 stick tests and 1 English/Spanish instruction leaflet.
Easy to use - just 1 simple step. Easy to read - clear results in as little as 3 minutes. Choose the test method you prefer - simply hold the absorbent tip directly in your urine stream, or if you prefer, collect your urine in a clean cup and dip the absorbent tip. Instructions in English and Spanish.
For In-Vitro Diagnostic Use (not for internal use). Not for contraceptive use.