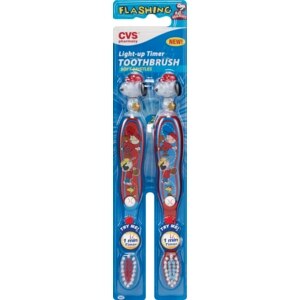 CVS Peanuts Light-Up Timer Flashing Toothbrush, Soft Bristles
Flashing. 1 minute timer. 2 pack. CVS/pharmacy Light-up Timer Toothbrush makes brushing fun while promoting proper brushing habits. Just brush until the light stops flashing. The soft bristles clean children's teeth of all sizes and help protect young gums. Perfect for encouraging good oral care for developing teeth. The light flashes for 60 seconds, then turns off automatically. Change your brush when light no longer works (approx. 3 months). Ensure children brush twice a day to keep teeth and mouth healthy. Batteries included (last for the life of the toothbrush). Dentists recommend brushing for 2 minutes. CE listed. CVS quality. Made in China.
This toothbrush is not a toy! Please use it under strict parental guidance. Do not let kids chew or pull apart rubber end. Although securely contained, this product holds very small micro cell batteries under the rubber end which can be harmful if swallowed.