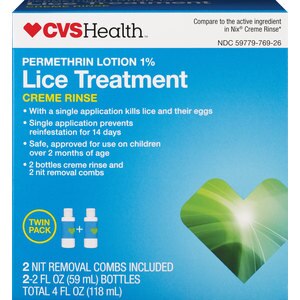 CVS Permethrin Lotion 1% Lice Treatment Family Pack
Wash hair with your regular shampoo, rinse with water and towel dry. Apply enough Permethrin Lotion 1% to saturate hair and scalp (especially behind the ears and on the nape of the neck). Leave on for 10 minutes but no longer. Rinse with water. A single application is usually enough. If live lice are observed 7 days or more after the first application of this product, a second treatment should be given. For proper head lice management, remove nits with the nit comb provided. Head lice live on the scalp and lay small white eggs (nits) on the hair shaft close to the scalp. The nits are most easily found on the nape of the neck or behind the ears. All personal headgear, scarfs, coats, and bed linen should be disinfected by machine washing in hot water and drying, using the hot cycle of a dryer for at least 20 minutes. Personal articles of clothing or bedding that cannot be washed may be dry-cleaned, sealed in a plastic bag for a period of about 2 weeks, or sprayed with a product specifically designed for this purpose. Personal combs and brushes may be disinfected by soaking in hot water (above 130 degrees F) for 5 to 10 minutes. Thorough vacuuming of rooms inhabited by infected patients is recommended.
For external use only. Allergy alert: This product may cause breathing trouble or an asthmatic episode in susceptible persons. Do not use on children less than 2 months of age. Ask a doctor before use if you have infestation of eyebrows or eyelashes. When using this product: do not use near the eyes or allow contact with mucous membranes, such as the inside of nose, mouth or vagina, as irritation may occur; keep out of eyes when rinsing hair; adults and children: close eyes tightly; do not open eyes until product is rinsed out; children: protect children's eyes with washcloth, towel or other suitable material or method; if product gets into the eyes flush with water right away; itching, redness, or swelling of the scalp may occur. Stop use and ask a doctor if: skin irritation lasts; skin infection is present or develops. If pregnant or breast-feeding, ask a health professional before use. Keep out of reach of children. If swallowed, get medical help or contact a Poison Control Center right away.