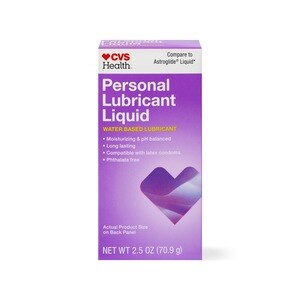 CVS Personal Lubricant And Moisturizer
CVS/Pharmacy Personal Lubricant provides gentle lubrication for increased comfort and pleasure during intimate activities. Water based and water soluble, CVS/Pharmacy Personal Lubricant not only lubricates, but also moisturizes to reduce vaginal dryness. Formulated to be pH balanced and condom compatible allowing you to enjoy your most intimate moments.
Purified Water; Glycerin; Propylene Glycol; Polyquaternium 15; Methylparaben; Propylparaben
Apply several drops to vaginal area. Amount can be varied to attain preferred lubrication. Apply a small amount of CVS/Pharmacy Personal Lubricant to the inner and outer surfaces of the condom for enhanced pleasure.
THIS PRODUCT IS NOT A SPERMICIDE OR CONTRACEPTIVE. CVS/Pharmacy Personal Lubricant is extremely slippery. Clean spills immediately. Keep out of reach of children. Should irritation occur, discontinue use immediately.