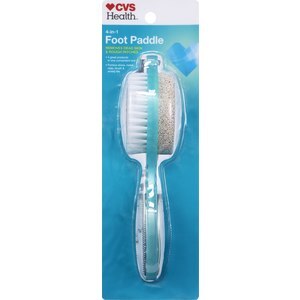 CVS Health 4 in 1 Foot Paddle
New! Removes dead skin 7 rough patches. 4 - in - 1 foot paddle. Helps stimulate circulation. 4 great products in one convenient tool. Pumice stone, metal rasp, brush & emery file. Made in China.
Quantity:

1-10 CT

Concern:

Dryness
Directions for use: For best results, soak feet in sudsy water to soften skin before using paddle.
Step 1: Use brush to clean feet and nails.
Step 2: Soften heels and rough skin with pumice stone.
Step 3: Remove dead skin and calluses with metal rasp.
Step 4: Buff skin with emery file for a soft, smooth finish.
Keep out of reach of children. This product is not intended for use by children. In case of circulatory impairment or diabetes, contact your physician prior to use.