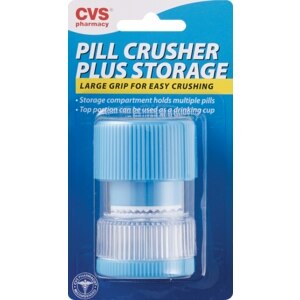 CVS Pill Crusher Plus Storage
Large grip for easy crushing. Storage compartment holds multiple pills; top portion can be used as a drinking cup. CVS pharmacist recommended. Made in China.
Unscrew crusher cap and place tablets into container. Screw the crusher cap down tightly against the tablets. Then, with a firm hold on the crusher cap, rotate the crusher cap back and forth to crush the tablets. Repeat this back and forth movement until a uniform powder has been achieved. When the cap can no longer be rotated down onto the tablets, back the rotation off one or two revolutions and tap the container on a table to redistribute the powder. Remove cap to empty powdered tablets from container. To store medication, unscrew bottom pill container cover and fill container with tablets. Replace the cover tightly. Note: Enteric-coated tablets are intended to be swallowed whole and should never be crushed before taking. Care: Before using, wash with mild detergent, rinse with warm water and allow to air dry.
This product is not a toy. Keep out of reach of children.