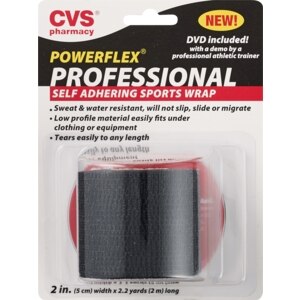 CVS Powerflex Professional Self Adhering Sports Wrap
2 inches width x 2.2 yards long. Sweat & water resistant, will not slip, slide or migrate. Low profile material easily fits under clothing or equipment. Tears easily to any length. DVD included! With a demo by a professional athletic trainer. CVS pharmacist recommended. CVS/pharmacy PowerFlex Professional is used by professional athletic trainers and provides support and superior protection. This self-adhering wrap is strong and lasts longer than traditional wraps. It is sweat and water resistant, will not stick to hair or skin and can be used in combination with other sport tapes. Learn how to tape like a professional by viewing the enclosed DVD featuring Ron O'Neil, a certified athletic trainer with 32 years of NFL experience. FSA eligible. Made in USA.
Taping: Begin with one or two wraps on the inside of foot, extending the wrap above the ankle. Spiral the bandage in figure eights around the heel, back under the foot and repeat. Complete with final wraps around the lower leg, pressing down and sealing the end of the bandage with your finger.
This product contains natural rubber latex which may cause allergic reactions.