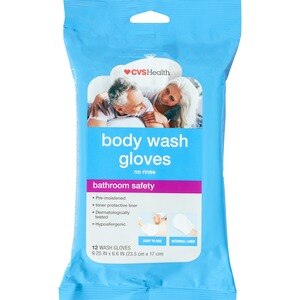 CVS Health Body Wash Gloves, 12CT
Voted 2012 Best New Product by the CareGiver Magazine

No-Rinse Bathing!

Impregnated on both sides with a protective washing lotion that is hypoallergenic and dermatologically tested, the CVS wash glove contains no soap, no alcohol and requires no rinsing or drying.
It is equipped with a plastic protective liner on the inside for extra protection. It is ideal for bedridden, incontinent, and dependent people.
The Pre-Moistened, No-Rinse CVS Wash Glove:PROVIDES:
A superior bathing experience for both the patient and the caregiver.
REDUCES:
Time & costs associated with traditional bathing: Bathing time is cut in half.
ELIMINATES:
The use of basin, water, soap, pitcher, towel&
Instructions for use
1. Open the pack by peeling down from the top of label.
2. Remove one CVS Wash Glove and reseal the label.
3. Place the CVS Wash Glove on hand and bath patient.
4. When bathing is complete, dispose of used gloves in regular waste. Do NOT flush