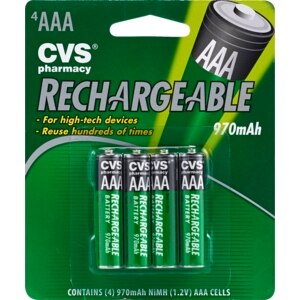 CVS Rechargeable AAA Batteries
For high-tech devices. Reuse hundreds of times. Contains (4) 970 mAh NiMH (1.2 V) AA cells. Replaces all AAA size batteries. Compatible with rechargeable NiMH battery chargers. Made in China.
Batteries must be fully charged before use. Follow the charging instructions supplied with your NiMH battery charger.
Do not dispose of in a fire. Dispose of batteries in accordance with local laws. Do not use with other battery types (Alkaline, NiCd, Heavy Duty or Lead Acid). Do not short-circuit batteries. Do not insert into a device in the wrong direction. Do not attempt to open the battery. Use ONLY a charger intended for use with Nickel Metal Hydride (NiMH) batteries.