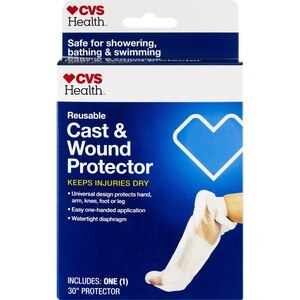 CVS Reusable Cast & Wound Protector
Keeps injuries dry. Universal design protects hand, arm, knee, foot or leg. Easy one-handed application. Watertight diaphragm. Safe for showering, bathing & swimming. CVS pharmacy recommended. Latex-free. Includes: One (1) 30 inch protector. Durable latex-free material protects: abrasions; burns; casts; cuts; IV & PICC lines; post-surgical incisions. Reusable - lasts the life of the cast or dressing. FSA eligible.
1. Insert injured limb into CVS/pharmacy Cast & Wound Protector. 2. Grip protector, gently stretch until diaphragm fits snugly on limb above bandaged area. 3. Gently pull protector downward to create a watertight seal. Additional instructions inside.
For therapeutic care/daily showering, bathing, or swimming. Use care around water, may be slippery when wet. With children, adult supervision recommended. Consult your doctor if diaphragm causes discomfort or swelling.