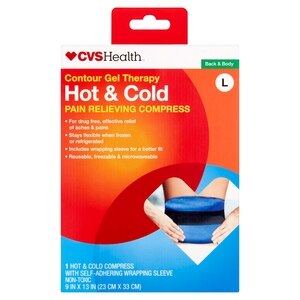 CVS Reusable Hot Cold Pain Relief Compress Large Back And Body
More convenient than the traditional ice bag or electric heating pad, the Large Advanced Hot and Cold Compress is effective for relieving pain and promotes healing of common aches and injuries. Keep one handy to use again and again whenever you need fast relief for muscles or joints. Medically recommended for: sprains, strains, knee, etc. Promotes safe, natural relief of muscle aches, arthritic pain and swelling. Washable, microwaveable, freezable. Includes protective support wrap. 9 inches x 13 inches (220 mm x 330 mm). Hot pack: body aches, stiff joints, cramps, sore muscles, arthritic pain, swelling. Cold pack: strains, sprains, bumps, bruises.
See instructions inside for use. Instructions in Spanish included.
Hot or Cold therapy should not be used by individuals with circulatory problems unless prescribed by a physician.