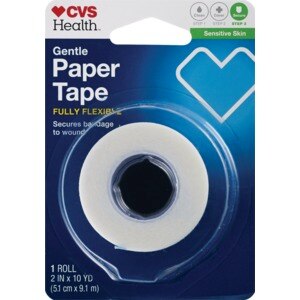 CVS Sensitive Skin Gentle Paper Tape
2 in x 10 yd. Gentle Fully flexible. Secures bandage to wound. CVS/pharmacy Paper Tape secures the bandage to the wound while remaining gentle on sensitive skin and is ideal for frequent bandage changes. Not made with natural rubber latex. CVS.com. CVS quality guarantee. Please recycle. Made in China.
For best results, use CVS/pharmacy first aid products, and follow the 1-2-3 Treatment. Step 1 Clean: Gently clean the wound using a gauze bandage with mild soap and water. Carefully dry the affected area and apply medication if needed (not included). Step 2 Cover: Cover the wound with a non-stick or surgical bandage (not included). Step 3 Secure: Secure bandage with tape. Overlap tape and press to underlying layer to hold it in place. Avoid wrapping tape too tightly, which could impair circulation. If too tight, remove and wrap again. Change bandage daily or as instructed by a medical professional.